Ohio's Premier Walleye Fishing Charter
and Guide for Lake Erie
Get ready for phenomenal Lake Erie walleye fishing when you book your next charter with Evil Eye Sportfishing. We follow the fish to the best locations on Lake Erie, from the islands of the western basin to the deep waters of the central basin. Fish with us spring, summer or fall out of Port Clinton, Geneva and the Grand River.
Evil Eye Charters takes 1ST Place in 2010 NCCBA Lake Erie Walleye Tournament!

See our Lake Erie Walleye Charter video that aired on The Outdoor IconŽ Show!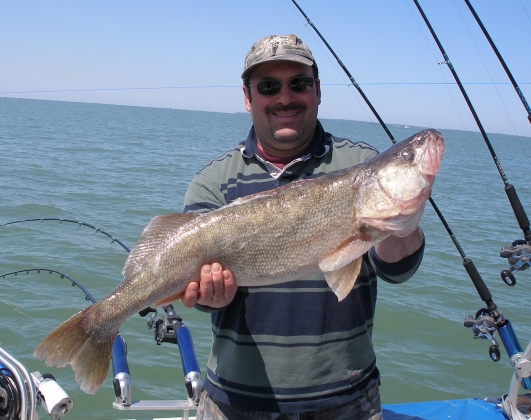 Enjoy your day fishing with Captain Marv DeGreen, a full time charter captain with over 30 years experience on the Great Lakes, specializing in trophy walleye charters, steelhead charters, jumbo yellow perch charters and smallmouth bass.

For your comfort and safety we have a customized 33 foot Tiara sportfishing boat with a hard top, twin engines, all the lastest electronics and a full size private bathroom.
We fish the best locations on Lake Erie for success
No fishing experience is necessary to enjoy a great day on Lake Erie fishing for walleye, steelhead trout or perch. All of the fishing equipment will be provided for you.

This is your perfect chance to take your wife or girlfriend, kids or buddies, fishing on Lake Erie, the walleye capital of the world. This is also an excellent outing for your business - rewarding customers and employees.
"For over 12 years
I have been using Captain Marv to entertain my friends and clients from all over the country.
We always catch fish
and have fun.
Blaine Davidson
(Hudson, OH)
Why A Lake Erie Fishing Charter?
Even if you own a boat, fishing with an experienced captain will put you where the fish are, teach you the techniques we use and provide you with all the right fishing tackle and bait to make your trip successful.

Please look at the pictures on our site, the walleyes we catch are between 20" and 32", the steelhead we catch are between 22" and 39" - this is why we fish the locations we do. You deserve the best, fish where the fish are the biggest!!
Member of:

North Coast Charter Boat Association
Lake Erie Charter Boat Information Service
Lake County Visitors Bureau

Evil Eye Sportfishing is:

U.S.C.G. Licensed
Ohio Licensed Guide
Fully Insured