Lake Erie Charter Rates
Why should you charter? A person can charter several times a year for a fraction of the cost of maintaining and outfitting a big water boat. Fishing with an experienced captain puts you where the fish are, with the most sophisticated equipment and with maximum safety.

We will gladly provide a list of clients for references, just give us a call. We have over 30 years of experience fishing for a living.

Let us arrange a trip for you to relax and enjoy the fun! Entertain your clients, employees, friends, or family.

Bait & tackle are included at no extra charge. We have no hidden charges.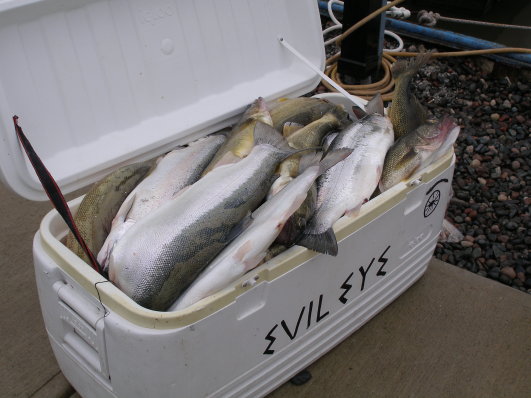 Walleye & Steelhead Rates(1 - 6 people)
Full day, 8 hours, dock to dock (6 AM) $700.00

Jumbo Yellow Perch, Fall (1 - 6 people)
Full day, 8 hours, dock to dock $550.00
Executive Package
Lunch, snacks, beverage and fish cleaning provided. For those who like to be catered to.
Multiple Boats
We handle those with large groups
*Accommodations for out of town Guests can be arranged*
Deposit
A deposit of $150.00 is required before a reservation will be confirmed. All cancellations are to be made at least 14 days in advance of reservation date or all deposits will be forfeited. Cancellations of charter due to weather conditions or any other reasons are at the captain's discretion. In such an event, another date will be offered, or a full deposit refund will be honored.
Not quite satisfied with your current captain? Maybe it's time to try a new one. You deserve the best! Fish with a full time captain, not one who fishes once or twice a week. Captain Marv is a full-time licensed USCG Captain full of energy and years of knowledge. He will treat you right.